Continuing to count my 1,000 gifts....
Gratitude - a feeling of thankfulness or appreciation, as for gifts or favours;
the state of feeling grateful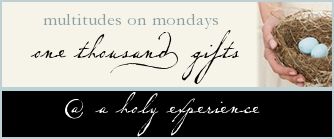 #141 - Celebrating 2 month old birthdays (Love you, Macy Hope)
#142 - fresh & new, blue eyes
#143 - peace that comes from within
#144 - trust in Someone bigger than me
#145 - having someone believe in you
#146 - learning to be comfortable in my own skin
#148 - beautiful Valentine memories
#150 - Never-ending HOPE
#152 - Looking with Faith-eyes
#153 - time spent with my husband
#154 - playing mini golf & arcade games
#155 - discovering a new restaurant
#156 - getting mutually choked up at a movie about seeing dreams come true
#158 - Mr. & Mrs. Love gifts
#160 - Love - true, real, eternal, forgiving, no-record-keeping
I have joined The Gratitude Community -- a place to be inspired by others and what God is doing in their lives, a chance to share my own journey of gratitude, and an opportunity to REMEMBER to be grateful in ALL things. So on Mondays, I will add to my list of 1000 gifts of all the graces God has provided in my life. Would you consider joining me? Even if you don't blog, you can join the gratitude community by starting a gratitude journal, mentionning your gifts on Facebook, or sending e-mails to your friends. Let's work together to help in creating a more thankful, joyous world!!