Gratitude - a feeling of thankfulness or appreciation, as for gifts or favours;
the state of feeling grateful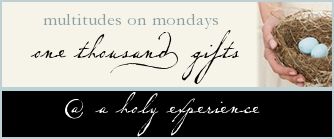 #81 - my husband doing his tech stuff (learning a new aspect to his future dreams)
#82 - the gift of getting to wake up next to this man every day
#83 - the fact that in 5 short years, he knows me better than almost anybody (mom, sis, and bffs included)
#84 - the support he gives me to do "what I need to do" in this transitional season of our lives
#85 - the knowledge that as CRAZY as things can be or feel...."It's me and you, baby!"
#86 - the world wide web - connecting us to people (old & new) and giving information and knowledge at the click of a mouse
#87 - Facebook - yes! I said it! :) I have connected....truly connected with some people in this last year in a way that wouldn't have happened without this medium to connect or re-connect us
#88 - the fact that with the click of a few words into a search engine I can find Godly Christian women who TRANSFORM my life by their own journeys
#89 - my family - inbox messages, researching health options, remembering me for job opportunities, and mostly through prayer....you guys pretty much ROCK!
#90 - Oswald Chambers -- I know! How random is that? This man has been impacting my life personally for about 15 years....and those lessons stay with me!
#91 - Martin Luther King, Jr. -- and for different reasons than you may think. He said "We must accept finite disappointment but never lose infinite hope."
#92 - That quote helped to spur the acceptance of God as my HOPE not having a baby or being where I thought I would be at this point in my life -- HE IS MY INFINITE HOPE!!
#93 - the fact that I could have another 60+ years still on this earth -- what am I going to do with them to make the most of the days my DAD has given me?
#94 - my precious girlfriends --near and far -- you guys enrich my life beyond what I can measure quantitively!!
#95 - Little Macy Hope -- our goddaughter -- getting to hold and to take care of her for awhile in church yesterday was just LOVELY
#96 - watching my bokkie (husband) "enjoy" holding her and walk around with her was such a highlight for me
#97 - Grace - as a theme for life and specifically for last year, I feel that God's love holds greater meaning for me
#98 - The recognition of that grace makes me WANT to give grace more...even in those moments when I DON'T want to (does that make sense???)
#99 - Redemption - everything in my life is used for a purpose -- no waste, no junk -- it will all be redeemed!!
#100 - the greatest love of my life - Jesus Christ - without Whom I would not be able to walk out of the muck and mire that I so often fall into b/c of my sin and humanity -- isn't He just the greatest??
I have joined The Gratitude Community -- a place to be inspired by others and what God is doing in their lives, a chance to share my own journey of gratitude, and an opportunity to REMEMBER to be grateful in ALL things. So on Mondays, I will add to my list of 1000 gifts of all the graces God has provided in my life. Would you consider joining me? Even if you don't blog, you can join the gratitude community by starting a gratitude journal, mentionning your gifts on Facebook, or sending e-mails to your friends. Let's work together to help in creating a more thankful, joyous world!!